Are you an experienced yogi, toying with the idea – or somewhere in between?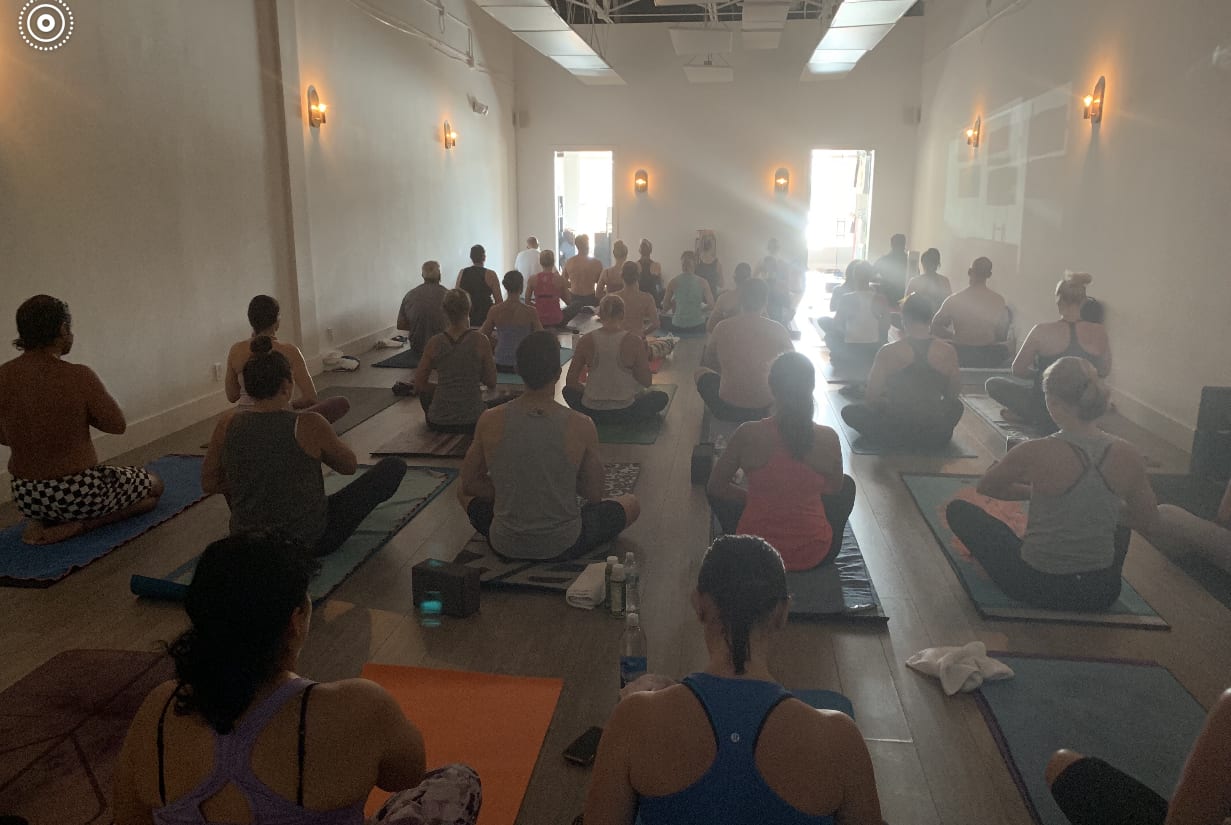 The other day Alyson Seligman (of The Modern Savvy and just one of my favorite people) and I were discussing the prospect of getting started – with anything in life that first step, that first time can be the hardest – but also thrilling!  For example – a friend wanted to learn to make candles…  it really interested her but she wasn't sure what exactly she needed, how long it would take, what kind of a mess it would make…  But then she just went for it one day, and now she knows what she needs and how to do it and what to expect.
Same with yoga – so we are sharing what you need to know and how to do it and what to expect if you want to try yoga at Hamsa Power Yoga in Jupiter.
Katrina Aronson (another fabulous female always lifting up others)  invited me in for a class with her at Hamsa.  It is a bit out of the way for me – and I am a big believer that in order for you to stick with something it has to fit into your routine (on the way home from drop off or on your way to the office etc) so there are no excuses…  but I also loved the idea of sharing a class with her and seeing this new studio that she was RAVING about.  And as the world seems to be getting busier, and in this season of output as we mother, a space to disconnect from technology and reconnect with ourselves is sacred… and necessary.
So – what do you need to know before you go?
Check the schedule and find a class that works for you.  All levels are welcomed and acceptable unless otherwise noted.
This is warm yoga – not HOT.  So you will sweat but you aren't in a sauna.  Its cooler than most summer days in Florida!
They don't offer first class free usually – but if you mention Palm Beach Moms they will make it happen for you.
You do not need to be nervous – you will be welcomed with open arms.
Wear comfortable clothing for the warm moving environment.  There are no mirrors and your eyes will be closed often.  No one is looking at you they are busy practicing.
Be ready to move that body – this isn't your grandmothers chair yoga at the library!  This is so make your body feel amazing and your mind rinsed so you can be connected with your body and the world and others around you.
Good to know – they offer a kids class as well!  Right now it is Mondays at 345.  Yoga has incredible benefits for kiddos!
What to bring:
A yoga mat (if not you can rent or buy one from them)
A large water – I prefer a yeti with a silicone straw
A large towel for your mat (they sell these)
A small towel to pat yourself off
A sense of humor about yourself and an open heart.
Do you have any questions for us?
Leave a comment we would love to help!
Namaste