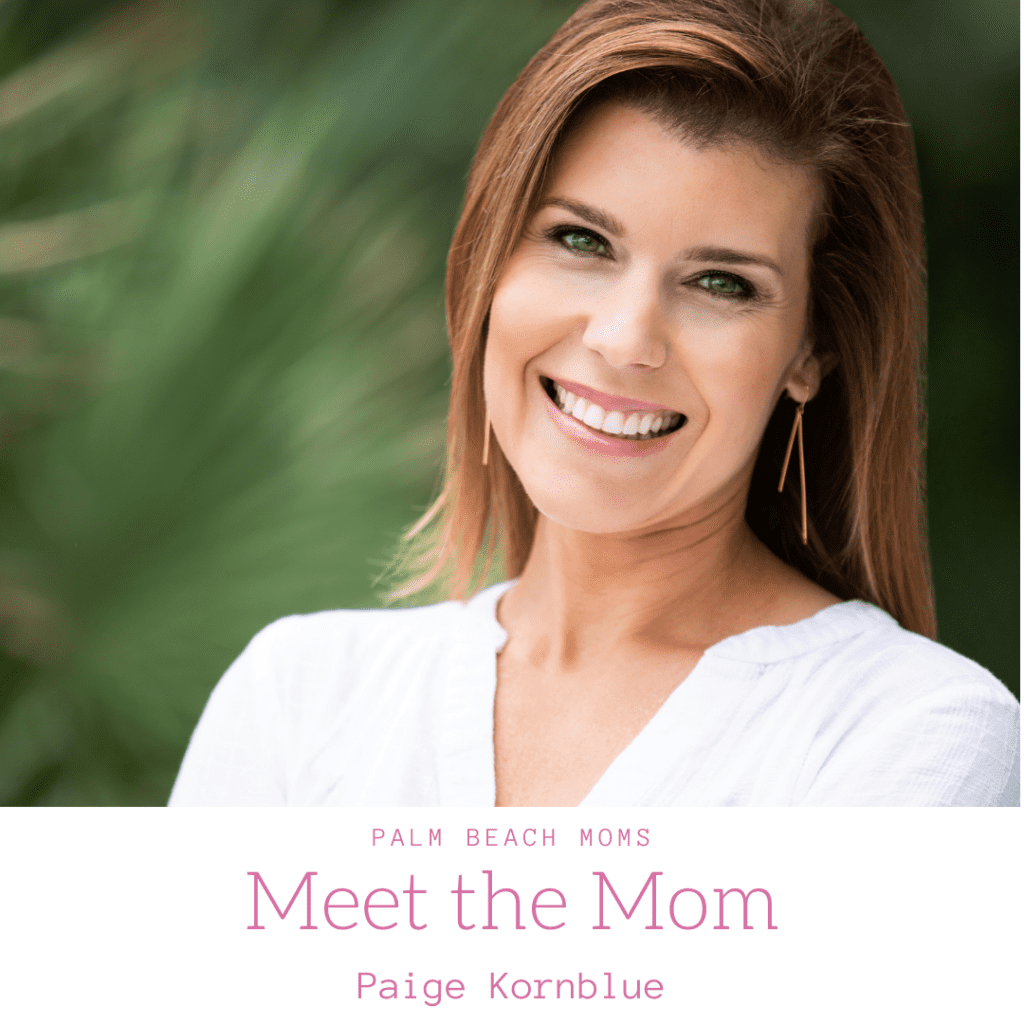 Name: Paige Kornblue
Where did you grow up: Boca Raton, Florida
Town you live in now: Boca Raton, Florida
Why you love living there: Boca Raton is a community chock full of sunshine, fabulous people and fun places! We have beautiful beaches and parks, a thriving downtown, two prominent universities and the legendary Boca Raton Resort & Club.  Boca Raton has such a rich history and holds countless happy memories of my childhood days and career days anchoring and reporting at WPTV (NBC) NewsChannel 5. I am truly grateful that my children now have the opportunity to grow up in Boca Raton and make lifetime memories here too.
Tell me about your kids: I am the lucky mom of an 8-year-old daughter, Maya, and 6-year-old twin sons, Clay and Cody. It's quite a ride having three kiddos in less than two years. I have always called life with these three "wonderful chaos!"
Favorite things to do with the kids locally: Every day is an adventure in South Florida! You'll often find us with friends at the beach near our home or on the Boca Raton Resort & Club tennis courts. We are trying out all of the area's youth sports ('Taxi Mom' in full effect!) and love to attend FAU athletic games, school and city events. I try to find ways for the kids to help me support local charities, just like my mom did with me.
What's your 'day job'?  How did you get started with it? Prior to having children, I anchored and reported at WPTV (NBC 5) and other market-leading television stations across the country. Once the kiddos came along, I transitioned from the news set to my most proud and rewarding job of full-time mom. I also became the primary caretaker for both my mom during her hard-fought cancer battle and my father during his challenges with dementia. Today, I blend together all of those challenging and beautiful life experiences with news, travel and community happenings on my lifestyle blog, www.paigekornblue.com. I love to highlight interesting people and places, the charities I emcee for and the little thoughts I have about a lot of different things.
What is your best parenting advice.  Lay it on us.  Coffee in the morning and wine at night! I try to remind myself to take things day by day. The parenting journey is as frustrating as it is fabulous. I take in as much advice and guidance that I can from experts, all of the parents before me and friends beside me… and then I find my own path using those tips, my heart and my gut.
What do you do for self care?  Walking with friends is my favorite remedy. Sport and exercise have always been my outlets. I play tennis at least once a week and try to get to a few fitness classes in too. For me, writing and storytelling about all good things is also very good for the soul!
Anything else you want to share? How lucky are we? All of us The Palm Beach Moms fans sharing our stories and celebrating South Florida! I would love for you to join me along the way @PaigeKornblue – let's enjoy this amazing thing called motherhood together.