Name: Lilly Leas Ferreira
Where did you grow up: 
I grew up in the north end of Palm Beach. My mother and father shared a love for the ocean, and they passed that down to us. Many of my childhood memories involve my brothers and I running from the beach with surfboards to the intracoastal with fishing rods.
Town you live in now: 
I live in West Palm Beach. Our neighbors are friends that we grew up with and the neighborhood is filled with families. We moved into our house two weeks before I gave birth to our daughter and I've been nesting ever since.
Why you love living there: 
Born and raised, I've always loved living in Palm Beach County. I like feeling connected to my hometown and the sense of community. With the onset of coronavirus and life stripped back to the simple things, I really fell head-over-heels. Every opportunity to walk on the beach at sunrise or run with our dog down the Lake Trail feels like a gift. Last weekend, my daughter even got to see a pod of porpoises jumping and playing in the ocean. And still, surrounded by beautiful scenery, incredible businesses, and inspiring cultural attractions, the best part of this town is the people.
Tell me about your kids: 
Sean and I have one daughter, Lula, and a rescue dog, Conch. Lula turns two this fall and she's sweet and chatty and the mirror image of Sean. She loves to be on the move and is happiest when we're biking, swimming, or building sandcastles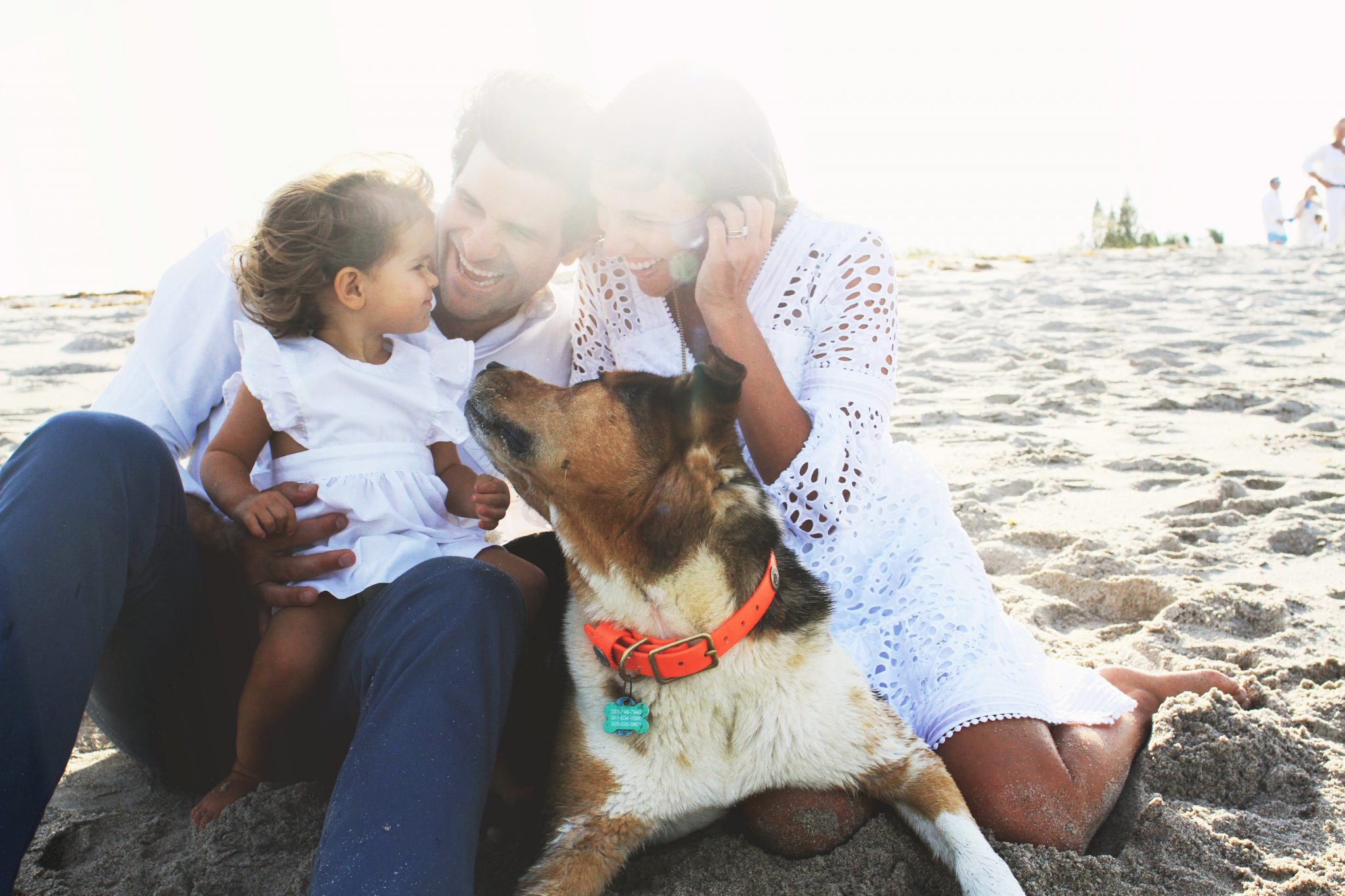 Favorite things to do with the kids locally: 
In an effort to escape the heat and the crowds, we plan morning adventures. On the weekends, we try to go snorkeling or swimming when the ocean is flat. When we snorkel, Lula usually floats in a raft alongside us or Sean and I take turns jumping off the boat or digging holes in the sand with her. When we need a break from the sun, Lula enjoys the South Florida Science Center – dinosaurs are very popular in our house at the moment.
What's your 'day job'?  How did you get started with it?
In February, I made an exciting career change. As a realtor associate, I joined Whitney McGurk, Liza Pulitzer (my aunt), and Minnie Pulitzer (my mom) on the Pulitzer McGurk Team at Brown Harris Stevens Palm Beach. Together, Liza and Whitney are nationally recognized, selling over $115 million in real estate last year, and it's an honor to join the team. I love what I do and enjoy sharing my love of Palm Beach with new families that come to the area.
Outside of real estate, I'm also working as a consultant for Lilly Pulitzer. My grandmother, Lilly, started the company in the 1950's and I'm grateful to be involved with the brand, carrying on the Palm Beach tradition and staying connected to the colorful designs.
Prior to working in real estate, I was running The Royal Poinciana Plaza in Palm Beach, leading the team through record-setting seasons, managing incredible tenants like Sant Ambroeus and LoveShackFancy, and hosting hundreds of local events. With a focus on community, it was the perfect transition to my career in real estate.
What is your best parenting advice.  Lay it on us.  
Find your people, even if they're strangers.
In my twenties, I lived by the popular quote, "Twenty years from now you will be more disappointed by the things you didn't do than by the ones you did do. So throw off the bowlines. Sail away from the safe harbor. Catch the trade winds in your sails. Explore. Dream. Discover." by H. Jackson Brown, Jr. This mindset helped me gather the courage to travel, start a business, and apply to graduate school. When I became a mother, though, a wave of anxiety hit me. I wasn't sure how I would leave the house let alone plan another grand adventure, keep building my career, and raise a child.
Through social media, I started following families that were traveling, inspiring working mothers, and successful entrepreneurs with young children. I reached out to women in my network and learned so much from other working moms. I watched in awe as my sister-in-law went on road trips camping across the country with two toddlers and survived. After seeing endless examples of badass motherhood near and far, the challenges that felt unfathomable started to appear possible. There are incredible moms everywhere – in our community and online – and it took seeking them out to give me the confidence to get back to living by my favorite quote and going for the life that I've dreamed of.
What do you do for self care? 
The ocean is my happy place. In January, I committed to swimming in the ocean 100 times this year. Ideally, these swims involve a mask and fins and a group of loved ones. In reality, between work and life, the swims are often short but sweet. Even the act of jumping in and dunking my head profoundly impacts my day and perspective.
Anything else you want to share?
When I became a mother, I wasn't sure where to turn to ask the endless questions that kept popping in my head. The Palm Beach Mommas Facebook group helped me find my incredible nanny and pointed me to resources on food allergies and breastfeeding. When a group of women, especially moms, come together, the power and support is incredible. Thank you for being my people when I needed you, and I hope to return the favor.