This car seat TURNS while in your car to make buckling and unbuckling easier.  Save your back and your dignity (every bent over in a dress trying to wrestle a toddler in their seat?). Also, it is rear facing and forward facing up to 65 lbs.  Worth every penny.
---
LuBlu is SO SMART!  Great for travel, this diaper backpack easily converts to a baby carrier!
---
Ayla Vacuum – this one is a game changer.  A handy USB rechargeable vacuum for those baby spills.  Puffs all over the car, or in a doctors waiting room.  This sleek vac can go with you and its easy to clean.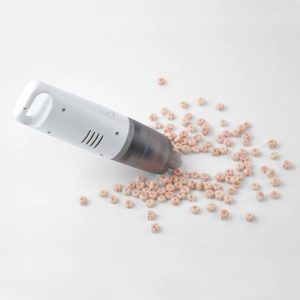 ---
Comfy cubs has great offerings for moms.  We love giving the Diaper caddy filled with some of their super soft swaddles and other favorite newborn goodies as a shower gift.  Bonus – no wrapping for you and no unwrapping for mom at the shower!
---
A plastic on the outside – glass on the inside bottle?  Have they ready my mind?  Details here.
---
This Bottle drying rack is a great space saver.  It is perfect for pump parts too if you're not a bottle user.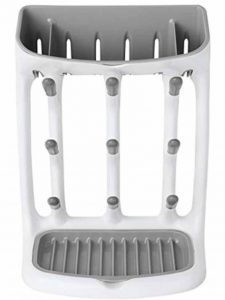 ---
The Miku monitor is ground breaking offering real-time Peace of Mind.  You can gain greater awareness of how your baby is breathing and sleeping. Real-time alerts let you hear, see and know of any changes. All with no wearables, washing, or charging.
---
Self fold stroller
– yes please.  This one does just that.  And its under $200 and lays back.  For kids up to 55 lbs.
---
Motherlove is mother founded and daughter run.  Over 3 decades of expert organic herbal remedies for mom and baby.Founded by an herbalist mother over three decades ago, our products have always been rooted in connecting motherhood to the wisdom and time-trusted herbs of Mother Earth.
It's in this combination that we are able to craft exceptionally clean natural ingredients into effective and trusted remedies.
---
Have you every wished you had an extra arm for soothing baby?
Your baby wakes up the moment you stop moving the stroller? Are restaurant meals getting cold because you have to jiggle the buggy?
Rockit Baby Rocker can assist with these situations and many more!
The Rockit Rocker keeps your baby moving – and snoozing – for longer by safely rocking your stroller, so you don't have to!
---
A teething necklace that you will want to wear?  
Anjie + Ash
has got you covered.