If you are reading this, you are probably waiting on a baby or attending a baby shower.  Waiting a little miracle to show itself, ahhh our favorite time in the whole world.  So we are sharing all of our favorite finds to help you snuggle in.
STROLLERS/CARRIERS
When it comes to strollers, we are particular.  At one point we had 7.  Yup, 7.  A jogger we liked, a jogger we didn't, a double jogger, two umbrella strollers we did not like, a bugaboo donkey, and a sit and stand.  We are LOVING
this new stroller from Baby Delight
– and get this – it is TSA carry on approved for overhead compartments so after a flight you won't get a damaged stroller that is not going to be helpful on your trip.  No thank you – we like to hit the ground running…  or rolling!  It comes with a travel bag, weighs about 13 pounds, has nice storage underneath, is sturdy, and may favorite – folds with one hand.  It is appropriate for kids up to 50lbs so my 6 year old is still enjoying it when it isn't otherwise occupied.  
Here is a video
we made about it.
A good baby wrap can help with postpartum depression, bonding, colic and your ability to get out and about.  Beluga Baby is a sustainable company that makes a bamboo baby wrap carrier that we love.
GEAR
Binxy Baby is so smart, designed by a mom(of 4!) of course.  We love the shopping cart cover (doubles as a high chair cover) and the shopping cart hammock.  I remember taking my car seat into Target one time and thinking where am I going to put ALL THE THINGS?

DIAPERS
My grandmother told me that babies really just need diapers and love.  But did you know that an estimated 20 billion disposable diapers are added to landfills throughout the country each year, creating about 3.5 million tons of waste.  EcoPea is committed to producing non toxic and eco friendly diapers while not skimping on softness.  They even have a wetness indicator!  We love the subscription packs with their wipes (thick and soft) included.  Go ahead and get one going and cross that off your list, you will have enough to do!
DIAPER BAGS
So I mentioned we had 7 strollers at 1 time, well, I will confess that I have also had 10 diaper bags…  my husband thinks more.  One for travel, one for every day, and one for just quick outings.
For quick outings (and we need up using this the most and even after diapers were needed) this was the clear winner.
For a full size diaper bag we love this one because of the side pockets.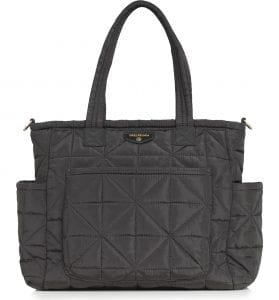 FEEDING
The recent addition hands free nursing pumps has granted freedom.  
The Willow
is our first choice.  Game changer!
Moms generally pump while baby is asleep and if they can't do anything else during that time, they never get a break! The Simple Wishes Signature Hands Free Pumping Bra frees up mom's hands to take care of other things while she pumps – whether that's washing bottles, editing a spreadsheet, or sipping a soothing cup of tea. MSRP $39.00
Simple Wishes takes things a step further allowing for both hands-free pumping AND nursing, including the  Foundation All-in-One Nursing and Pumping Bra (MSRP $24.99) and the Supermom All-in-One Bra (MSRP $49.99). Both are available in a variety of sizes to fit every new mom's body.
When you are ready for solids, Angie + Ash makes wonderful options for tiny eaters.  Their silicone bowl comes with a suction cup bottom, a top, and the cutest spoon for small hands you ever did see.  Their silicone bib makes life easier.  Just rinse and go.  The teething necklace is just the thing for around your neck or babes neck.  We just love their products so parouse the whole site, you will find all kinds of goodies.
NURSERY
Once you try the Snoo you will wonder how you ever had a baby without one.  Pricey but you would hand over all of your money to help your baby (and you) get better sleep.  (We found the Swaddle Me swaddles fit the best with this.)
Organization is key to keeping stress low.  This way you know what you have and where to find it.  We love this Arabella Baby diaper caddy to keep at your changing station.  It keeps all the essentials at hand and is easy to move (we use our nursery as a guest room so we can easily grab the essentials if needed).  Bonus, it is a family owned company!
BOOKS/Movies
Ina May Guide to Natural Childbirth
is one of the best books you can read while you wait on your baby in our opinion.  The first half is just short birth stories, natural and normal.  Puts you in the right frame of mind.  I felt so empowered.  The second half is tips that Ina May, the midwife of all midwives share for your delivery.
SWADDLES
SwaddleDesigns' Safe Sleepwear Guide makes it easy for parents to get more sleep and make safe choices. From swaddling blankets, to Transitional Swaddle Sacks to the zzZipMe Sack wearable blanket, SwaddleDesigns will have your little one sleeping peacefully, which means more shut-eye for you!  Nurse designed and parent approved.
Stage One (age range 0-3 months or until baby can roll over): Swaddle to suppress the Moro Reflex (the reflex which "startles" the baby awake). SwaddleDesigns Swaddle Sack® with Wrap keeps newborns cozy and secure.  Works really well with the Snoo.
Stage Two (age range 3-6 months): Partial suppression of the Moro Reflex. The Transitional Swaddle Sack® – an important innovation in safe sleep for babies who can roll over, but are not ready for a loose-fitting sleeping sack. Swaddle Sack® bridges the gap between a classic snug swaddle and a sleeping sack.
Stage Three (age range 6-18+ months): No swaddling, use a wearable blanket for safe sleep. The zzZipMe Sack® keeps baby warm and safe. Includes a 2-way zipper and available in a multitude of fabrics.
CLOTHES
It's no secret that in babies' first two years of life they outgrow their clothing very quickly. All the babies, a new sustainable baby brand seeks to address this problem by giving back to babies in need. All The Babies is a European-inspired baby clothing company with a mission to give back to babies in need through their model – wear, grow, give. Once your lil' one outgrows the pieces, send it back to them (free of charge) and they will hand deliver the pieces to a baby in need.
I mean, how amazing is that?  Plus the pieces are soft, hold up beautifully and will make you want the matching jogger set!
And for little jeans…  that are comfy and cute and stay put…  we adore
Baby Tiger
.  (and NOT just because Baby Tigers grow up to be Tiger Kings, ha.  But each sale does benefit Big Cat Rescue in Florida). They have the comfort of a legging with the warmth and look of denim. Huge fans, I mean, who doesn't love a baby in jeans?
FOR MOM
We love Giftgowns as a treat to make Mom feel extra special as she puts in the work to meet her baby.  They have all kids of cute designs or you can design your own!
Tummy Drops are an all-natural, healthy, medication-free way to relieve tummy troubles. A GI doc created them and I lived on them for the nausea in 1st trimester and heartburn at the very end.  Must must must.  We still always have them around for motion sickness.
Think stretch shoelaces that turn every shoe into a
 slip-on
, whether for the mom of three who has 4 sets of shoes to help tie daily or even the the mom-to-be the freedom to wear whatever shoes they like while elevating comfort, and providing ultimate ease-of-use!
The Original Stretchlace are the ONLY elastic stretch shoelace that looks like classic lace ups and works on all types of shoes and boots. Bounce, stretch, jump, run…
Compression Socks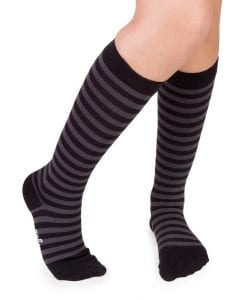 When I was pregnant with my second, I wore these awful stockings, how I wish Nabee compression socks were around then. Instead of ugly flesh colored things, I could have been wearing one of their fun designs!
For those that are pregnant, compression socks alleviate pain, fatigue and swelling while also preventing spider and varicose veins.   And after baby you can wear them for air travel and long stints of sitting.  Makes all the difference!
REGISTRY
Whatever is on their registry – I mean, they did ask for it!